Wrist watches once may have been merely a convenience. Now they've become a personal statement.
It is a damn-the-torpedoes meeting. The long boardroom table is a burnished valentine to successful commerce and the aggressive executive leans confidently forward to address his colleagues. His jacket rests casually over the back of his chair, his tie is loose and his sleeves are rolled halfway to his elbows, exposing a large two-tone Rolex that gleams like a gladiator's wrist shield. He is ready to do business.
The mighty Rolex as power accessory is almost a cliche now, but wrist- watch addicts of all stripes are more common than you might think. The reasons range from fashion consciousness (the watch is the one piece of jewelry that many men will allow themselves) to connoisseurship to the brazenly crass – for, like your car, your watch is a potent badge of material success. But, unlike your car, you can get it into the elevator and up to the boardroom to impress your peers.
So popular as a status indicator is the expensive watch that it can, like a car, now be leased. Although the coveted Rolex President model, for example, is a brisk seller at $17,000 (list), Toronto's Movements in Time will also lease it for $548 a month over a 30-month term, at the end of which the wearer will own it. Movements in Time's Peter Grunspan reports that trade has been brisk since he opened his leasing division last January. "I've had calls from executives all over the country who don't want to lay out that much cash for a wrist watch," he says. "Leasing obviously protects capital and gives them what they want right now. It also gives them a lock on today's price and that's important because, unlike cars, good watches don't drop in value."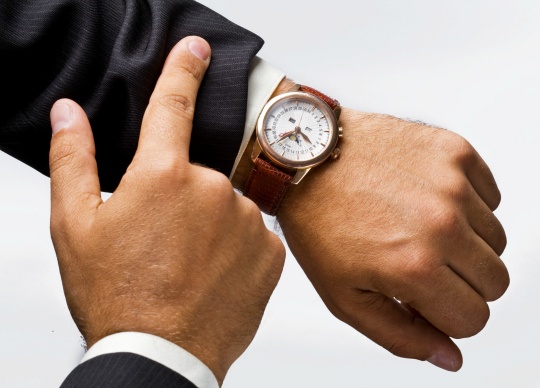 According to a spokesman for European Jewellery, a tony Toronto jewelry emporium that sellswatches priced from $100 to $100,000, class enters into the choice of a fine wrist watch as well. He says the Rolex might now be too popular with the masses. "Yes, the Rolex is popular with some people but it's also considered by others to be too gaudy or flashy for meetings," he sniffs. "Those people may already own a Rolex but they use it for fishing or playing squash. For important business occasions, they lean to hot sellers like Baume & Mercier ($1,000 to $20,000) or Patek Philippe ($5,000 to $50,000). They want a simple, classic shape: a round white dial with Roman numerals." European Jewellery's anonymous spokesman has also noted sociological changes in the store's 15-year history. "Ten years ago," he says, "it was acceptable to wear a Timex to a board meeting. Today, it just isn't done. Many of our customers drive a Mercedes. They choose their watches for the same reason: to own something that works really well but that also makes a statement about who they are."
In fact, buying a good wrist watch can also make sound investment sense, according to Steve Campbell of Charleston Clocks & Watches and John Dryden of John Dryden Antiques. Both dealers, who share cluttered Port Credit premises, specialize in vintage timepieces. Campbell notes a sharp rise of interest in older wrist watches. "A few years ago," he says, "you couldn't give them away. Pocket watches were fashionable while there were three-piece suits around but now some of our yuppie customers just want old-fashioned rectangular wrist watches that look like the ones their fathers wore, like Walthams and Elgins and Hamiltons. These classics sell for an average $150. Then there are rare models, like the 1952 Patek Philippe perpetual calendar that shows the phases of the moon. When it was made, it cost about $750. Now, it can sell for as much as $36,000." Another favorite among collectors is the Eaton's quarter-century watch, which was given to Eaton's employees for 25 years of service. The original was made by Rolex specifically for the Canadian market and models without "Eaton's" on the dial sold for about $125 in the '20s. Now it can be worth $4,000.
Jim White, a food consultant and former Loblaws senior executive, ebulliently confesses his passion for wrist watches and their lore. He owns six that he wears regularly, switching them according to his mood. One is a venerable Elgin that belonged to his father. "Digitals are the white chocolate of the wrist-watch world," he asserts with some belligerence. "They're one-hour wonders. And I like dials with Roman numerals. They're more elegant. Have you ever noticed that the number four on a Roman watch dial is often IIII rather than IV?" Like fellow devotees, White will idle for hours in jewelry stores, contentedly gazing at the seductive faces that peer back from the velvet under glass. "I also have something else in common with other wrist-watch enthusiasts," he admits. "I'm never on time for anything."